Roltís parents bought this 14th century hall house at Stanley Pontlarge, near Winchcombe in Gloucestershire, in 1921.
He later wrote of the house:
"It gave me a strange sense of satisfaction to follow with my fingers the chamfer of an oak beam or the concave curve of a stone mullion and to think of the men who had fashioned them with adze and chisel at least five centuries ago".
From Landscape with Machines, Tom Rolt's autobiography.
From 1954 until his death in 1974, Tom Rolt made Stanley Pontlarge his home and he is buried in the churchyard at Stanley Pontlarge. This historic family home is now also occasionally available to visitors for holidays. For more photos of the house and garden, and details of availability and booking, visit the
house website
.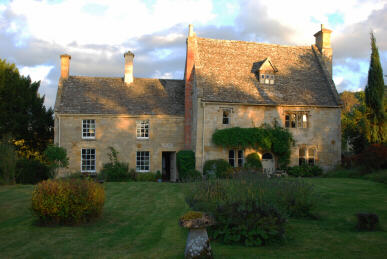 Tom also built a small cottage in the orchard for his mother to live in. This secluded and peaceful cottage is available all the year round for
holiday rentals
with AirBnB.