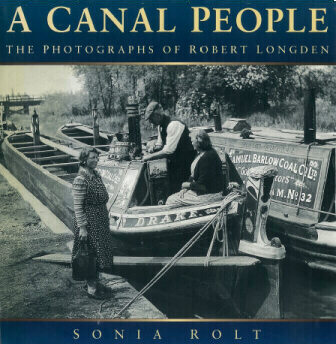 A Canal People
This book by Sonia Rolt features a collection of photographs by Robert Longden. First published in 1997, the book has recently been reissued as a paperback by The History Press. During a short period in the late 1940s and early 1950s, Robert Longden took a remarkable set of photographs of the narrow boat community at Hawkesbury Stop - the main meeting point for those who worked the Midlands canals.
"I have been haunted by these pictures for almost five decades, and not only because I was involved in the life that is depicted in them. I hope here to be able to tell something of the story of this haunting and of its resolution."

Sonia Rolt, from her introduction
The images are of a close community, and represent its members in a very intimate way - at work, at play, in their domestic affairs, and as they lived on the paired and single colourful narrow boats. The photographs illustrate the close relationship between all ages and types within the community, and the dramatic boat shapes and infrascape of this rural and industrial area. Sonia Rolt, who herself worked the canals during the period and knew the photographer, provides an introduction which describes how Robert Longden came to this passionate involvement with the canals. It also sets the photographs in the context of their time - the last period when the narrow boats could be said to play a serious part in transporting goods in quantity. These high quality photographs, taken from the original glass transparencies and never previously reproduced, show a now vanished way of life. This book, providing a rare insight into the community that worked the waterways when it was still a way of life for many, will appeal not only to canal enthusiasts, but to anyone interested in Britain's social and industrial heritage.
How to buy
A Canal People can be bought online from the publishers, The History Press, using the link below:
A Canal People - History Press
Publication Date: 15/06/2009
Binding: Paperback